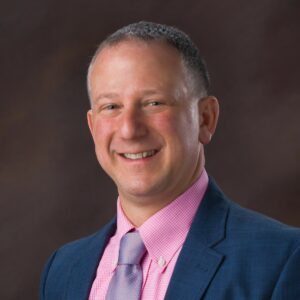 In 1989, Eric Brand took over the operation of P & L Landscaping from his brother, Lee, and his friend, Pete with 6 lawns to mow, he set out to build a landscaping company based on outstanding customer service and quality workmanship. Under Eric's direction and vision, P & L Landscaping, LLC has grown to serve customers throughout southern New Hampshire. In 2008, P & L Landscaping expanded into its new Material Center location in Merrimack, NH, now with over 30 members in the P & L Landscaping team.
A graduate of Nashua High School, Eric has completed college and certification training courses in a broad range of landscape design and business management areas. These include:
• "Techo-Pro" Certified Contractor
• "Hunter" Irrigation Specialist
• International Concrete Paving Institute (ICPI) certification
• National Concrete Masonry Association (NCMA) certification
• One of the first to receive UNH's T2 certification in winter salt reduction for commercial salt applicators
• The only "Certified Aquascape Installer" in New Hampshire
• Under his leadership, P & L Landscaping has earned its A+ rating as an accredited status member of the NH Better Business Bureau (BBB).
• Green Snow Pro Certified
Over the years, Eric has strived for excellence in the industry and community. Eric has testified in Concord, advocating for both the industry and community.
• 2003 Stateline Irrigation Sales Achievement Award
• 2006 Hunter Irrigation Gold Achievement Award
• 2008 Finalist for "Landscaper of the Year" a national contest through Landscape Care Magazine
• 2009 Top 100 snow plow contractor, through Snow Magazine
• 2009 Earned the designation of "CSP" Certified Snow Professional through Snow and Ice Management, the vigorous training included Subcontracting, Marketing, Human Resources, Accounting, Snow and Ice Sciences and Snow Plowing Techniques. Eric was one of the first 100 landscapers nationwide to achieve this level of certification
• 2010 Nashua Chamber of Commerce Small Business of the Year Nominee
• 2011, 2012,  2013, 2017 & 2018 "Best of Nashua", Nashua Telegraph
• 2011-2014 Board Member, Merrimack Chamber of Commerce, Board President 2012, Golf committee, scholarship committee, gala committee
• 2012, 2013 & 2016 "Best of Souhegan Region" Cabinet Press
• 2012 Graduate from the Leadership Greater Nashua program
• 2012 Volunteer of the year, from the Nashua Chamber of Commerce, Eminence Awards.
• 2014 Inducted to the "Hall of Fame" with the Boys and Girls club of greater Nashua.
• 2014 – Current Eric was appointed to the "Governors Commission on Disabilities, Architectural and Barrier Free Design Committee", appointed as Chairman in 2015-Current.
• 2014 Received the first "Salt of the Earth" award from Senator Morse at the first NH Salt Symposium
• 2014 Nominated for small business of the year, from Enterprise Bank
• 2014-2016 Committee member for NH Salt Symposium
• 2016 Business Leader of the Year, Merrimack Chamber of Commerce
• 2016 NH Parent Involvement in Education Recognition Award
• 2016 – Present, Gateways Legislative committee member
• 2016 Nashua Chamber of Commerce Business Person of the Year Nominee
• 2017 Merri Goyette Award, from City Arts Nashua
• 2019 "Small Business of the Year" Nashua Chamber of Commerce
Eric is an active member of The Greater Manchester/Nashua Area Home Builders & Remodelers Association (GMNHBRA) and the Nashua and Merrimack Chambers of Commerce. He is a past president of the Merrimack Chamber of Commerce and sat on numerous committees.
Eric is a 2012 graduate of the Leadership Series from the NH Institute on Disabilities. Also in 2012, Eric participated in The Greater Nashua Chamber of Commerce "Leadership of Greater Nashua" training and was the project leader of the Legacy Playground Project, which opened in 2016.
A busy year in 2012, Eric worked with the Merrimack Chamber of Commerce and The professional firefighters of Merrimack to collect supplies for those effected by Hurricane Sandy. Eric drove to NYC on two occasions bringing over 20,000 LBS of supplies in total to those in need.
Eric completed the Volunteer Advocacy training program through PIC (Parent Information Center), during the fall of 2012. Eric and his family donate their time and support to numerous local non-profits. Eric is a father of three. He currently enjoys running, completing (7) ½ marathons, along with many other road race and obstacle challenges, including finishing the Spartan Race Tri-Fecta in 2017. Eric is currently working on hiking the 48 4,000' mountains in NH, completing 23 of them to date with his youngest son.
Scott Langevin, Maintenance Division Manager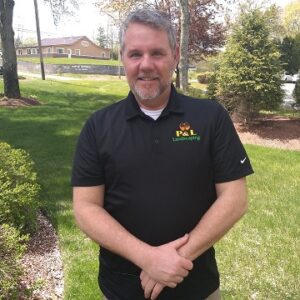 Scott joined the P & L Landscaping team in 2019 as our Maintenance Division Manager.
With over 30 years of dedicated experience in the landscaping industry, Scott is a seasoned professional driven by an unwavering passion for crafting breathtaking landscapes that both enchant the senses and elevate outdoor living spaces.
He understands that each client's landscape is a reflection of their aspirations so he works closely with clients to grasp their unique preferences and expectations. This client-centric philosophy ensures that their landscape not only meets their initial desires but surpasses them, providing a source of ongoing joy and pride.
Scott has lived in NH his entire life and has a passion for the area. He is commited to not just selling landscaping services, but also curating dreams and transforming them into tangible, awe-inspiring realities.
Bill Mullen, Office Manager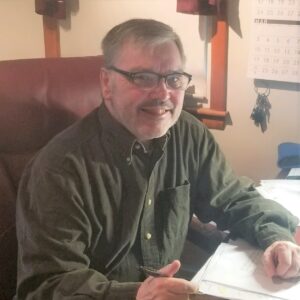 Bill joined the P & L Landscaping team in late 2017.  In his role as Office Manager he works on nearly all day-to-day aspects of our fast-growing company.
Bill has over 25 years of experience in the finance and accounting area.  Previously, Bill has worked for Bellemore Heating Oil and Chappell Tractor, both of which won Small Business of the Year for the Greater Nashua Chamber of Commerce, making P&L Landscaping his third company to win such an honor.
Bill grew up in Woonsocket, RI and graduated from Woonsocket High School where he played both baseball and basketball.  He obtained his BS in Economics from SNHU, where he played baseball, and earned his MBA, with a concentration in Accounting, also from SNHU. He resides in Manchester and enjoys golf, darts, pool, and cards. He is an avid New England sports fan, enjoys spending time with his two sons, and has a great love for animals.
Katie Benson, Materials and Irrigation Manager
If you come into or call our office, Katie will likely be the first person you meet as she occupies the front desk – oftentimes with her delightful dog, Pete.
As our Materials and Irrigation Manager, Katie processes customer orders, manages material inventory, organizes deliveries, and schedules both irrigation quotes and installs. She believes that the true success of any business starts and ends with effective communication and strives to ensure that the relationships between our team, customers, and vendors are seamless and effective.
Katie grew up in New Jersey, spending many of her early years outdoors on the Jersey shore playing tennis and soccer with her two younger sisters. She moved to NH as a teenager attending school in Amherst. After spending years in a corporate environment, Katie wanted to go to a place where her skills and knowledge would make an immediate impact and we are happy she chose to bring those here.
Katie currently lives in Milford and most weekends you can find her at a variety of different baseball fields with her son, an avid baseball player.