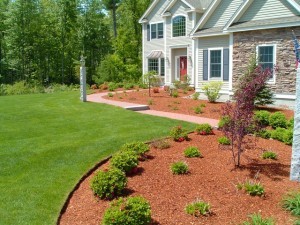 P & L Landscaping offers full-service hardscape and softscape design, installation and maintenance services for residential customers in New Hampshire and Massachusetts. Whether you need hydro seeding, sod lawns, lawn sprinkler systems, hardscape design, mulch application or something more, P & L Landscaping offers expert services so you can have the lawn and garden you always wanted.
Do you have questions about our services? Call 603.595.2802.
Beautiful, well designed and maintained landscaping greatly enhances the value of your home. Whether your home sits on a standard lot or a vast track of land with limitless possibilities, P & L Landscaping can transform it into the jewel of the neighborhood. It sounds cliché, but your property will be a source of pleasure and pride for years to come.
Specialists in Massachusetts & New Hampshire Landscaping
Whether you enjoy vibrant flower gardens or the serenity and simplicity of a lush lawn, our staff can transform your Massachusetts or New Hampshire landscape into your ideal oasis. Our team understands the natural conditions in New Hampshire and Massachusetts, and we will create a landscaping plan that takes full advantage of your yard and garden.
P & L Landscaping starts with a soil analysis to determine whether you need modifications in moisture levels or organic chemistry. Then we develop a holistic plan that fits your unique requirements.
There's no reason to limit your lawn and garden plan to just the warm weather months. P & L Landscaping can create a landscape plan that offers enjoyment and visual appeal throughout the year.
The result is a plan that could include installation of irrigation, brush trimming and removal, or soil modifications. You'll be surprised at how cost effective a properly maintained landscape can be, especially since your leisure time will be your own.
Contact us today by calling 603.595.2802 or use this easy email contact form.