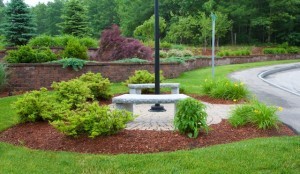 Mulch installation is a big part of our business. For years, we have installed mulch the "traditional" way with a rake and wheel barrow. With the growth of our mulch installation projects and seasonal maintenance customers, we knew something had to be done to make this more efficient for us. We invested in a FINN bark blowing machine and it instantly changed the pace and efficiency in which we work. Since then, we've purchased a second one to service even more of our customers in a quicker time frame. This allows commercial jobs to be completed quicker and more efficiently saving our customers both time and money allowing for a more aesthetically pleasing layout for your landscape.
Mulch is important to help with the protection of your soil, trees, plants & shrubs. It helps your soil to stay moist allowing your plants & shrubs to not dry out. It also helps with the reduction in growth of weeds. Our mulch blowing machines allow us to put down a thinner coat to enhance your already established mulch beds or we can lay it down thicker to help retain the beds and help prevent erosion.
Our mulch blowers allow us to spread mulch in areas that aren't easily accessible by hand such as steep slopes, rooftops, hillsides and remote areas up to 300 feet away. The most important attribute of using a mulch blowing machine to install new mulch or to refresh existing mulch is that it will save time and the amount of mulch being used (up to 40%), which results in savings for our customers.
Watch our video to learn how to save time and money on your next mulch installation project!